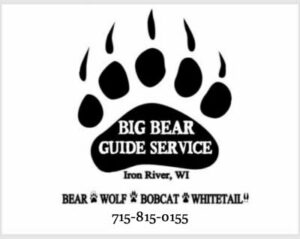 Guided Bear Hunting Trips in Northern Wisconsin for Zone A
We also guide for Bobcats, Whitetail Deer, Fisher, and if season opens, we will continue to guide for Wolves.  Also offering Charter Fishing.
Mark Karshbaum, Owner
Big Bear Guide Service
715-815-0155
For the past 40 years Keith Holly and his family have been successfully guiding hunts.

Big Bear Guide Service is a family owned business.  Our hope is that after your hunting experience you will feel like family.
Let our years of experience take you on the hunt of a lifetime.
We offer a 5 day hunt with extended days possible.  We have a walk-in cooler and taxidermist on site, along with a 24 hour meat processor available.
We encourage you to come up a few weeks prior to hunting season to check out the operation.  We typically take hunters on bait runs, check trail cameras, and take a look at different baits and possibly pick out your hunting site.
You must have a current Wisconsin Bear Harvest permit to hunt.
We pride ourselves on the speed of bear recovery.  When we get that excited call from an anxious hunter that he or she has just made their shot, we arrive to the bait within a very short time.  This is when the expert trackers find, drag, and transport your trophy back to the Lodge for weigh-in, pictures, and field dressing.  A swift recovery is essential for ensuring proper handling of the meat and hide.
We also offer guided hunts for whitetail deer and bobcats.  If wolf season reopens, we will continue to offer guided wolf hunts.
Call Big Bear Guide Service to schedule your hunt today!
Big Bear Guide Service is an Equal Opportunity Provider.
"Take your bow and a quiver full of arrows and go out into the open country to hunt some wild game for me." Genesis 27:3